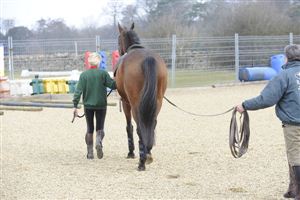 With the breaking in process it's essential to take everything back to basics. Tim Rusbridge is a top-level eventer from New Zealand, now based in the UK. He has a passion for young horses and regularly takes them in for breaking for racing, dressage and eventing. Here he explains his process:
Building relationships
The first thing is for the horse to feel safe and relaxed in his environment, and with the people who will be working with him.
The staff on our yard spend a lot of time grooming new arrivals to build up a relationship and also ensure the horse is used to being touched all over.
If the horse is shod his hind shoes will be removed as a precaution, and he'll also have his teeth checked.
Introducing tack
Next, the horses are put on a walker wearing a surcingle and side reins to get them used to going forwards and walking into contact with bit pressure on the bars of the mouth. After this, we can fit long reins.
We always let them get a feel for these in the stable first, then we take them out walking around the yard and into the school, where they need to get used to the sensation of walking with their outside eye against the wall. From here, we progress to lungeing under tack.
Backing
Before sitting on a horse or pony for the first time, it's important they trust you enough to let you lie over their back in the stable and feel your weight.
If they are accepting this calmly, you can carefully swing your leg over and adopt the sitting position. Make sure you are wearing a riding hat.
Allowing the horse to take a few steps, and move and turn in the stable first, means they are also testing out moving their body with you on board in an enclosed, familiar space before venturing out anywhere.
At this point, the horse can be ridden around the yard or ridden away up the lane before introducing the school.
Colts and fillies
It's at this stage in particular that the difference between a filly and a colt may be noticed. In my experience, fillies can be more sensitive than colts – a filly doesn't forget a thing you've done to her.
So my approach with these horses is quieter and they will be ridden around the yard before being ridden up the lane.
The colts will be lunged, then ridden away straight up the lane – it gives them fewer opportunities to get clever.
Of course, all horses are individuals, but I've noticed this trend in my own work.
Once you are riding a horse away nicely in walk and trot in the school, you can move into canter. All we want from them at this stage is to think forwards.
<2h>Turning away
A decision to turn away a young horse in the field after riding away is down to the individual, but I'd advise taking care with this.
That's why I'm a big believer in taking it step by step, so you can take it back a stage should anything go wrong.
Each time they come back, young horses have become bigger and stronger, so if any stages of the process need to be repeated, it's worth considering you'll be dealing with a horse with much more power and much more of a mind of his own.
Most horses, especially sports horses, should be backed by the age of three to minimise these issues.
Don't miss the latest issue of Your Horse Magazine, jam-packed with training and veterinary advice, horse-care tips and the latest equestrian products available on shop shelves, on sale now. Find out what's in the latest issue here