Competition horses can benefit from being fed supplements in addition to their normal rations. Supplements can target specific issues or dietary deficiencies, and help your horse give their best performance.
Here, Olivia Colton MSc, Senior Nutritionist at Feedmark advises supplements that may benefit competition horses.
Electrolytes
Depleted electrolyte stores are a common cause of lethargy among hard-working horses.
When horses sweat, they lose large amounts of the electrolytes sodium, potassium, chloride, and smaller volumes of calcium and magnesium.
A horse can easily lose 50g of these body salts when working at a moderate pace for an hour.
Electrolytes play a role in many functions within the body, and depleted stores can lead to exhaustion, dehydration and muscular issues.
Performance horses may benefit from being fed electrolytes daily to ensure electrolyte status is optimal, giving time to rectify any imbalances as these can easily take a few weeks to correct.
Joint supplements
Horses in hard work have increased levels of wear and tear on their joints. To keep your horse supple and mobile, look for a quality joint supplement from a reputable company.
Ideally, you want to consider providing your horse with at least 10g per day of glucosamine and MSM for a 500kg horse, as well as chondroitin sulphate and hyaluronic acid.
Vitamins and minerals
If you're not feeding your horse the manufacturers recommended level of a complete feed, top up your horse's rations using a vitamin and mineral supplement or balancer.
This helps to ensure your horse is getting all the nutrients he needs. Any shortfalls may have a negative effect on performance.
NOPS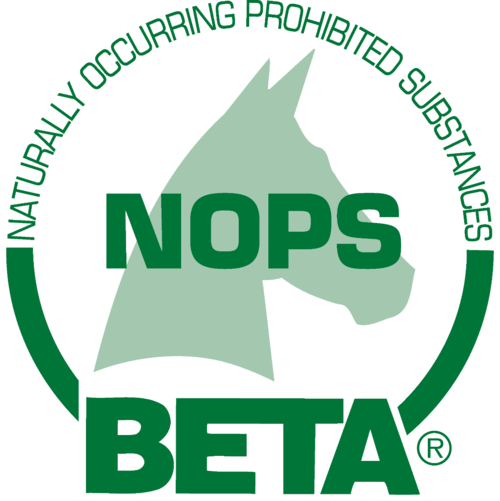 If you want to feed your competition horse a supplement, look for those displaying the BETA NOPS logo.
This shows that the company is part of the BETA NOPS scheme, meaning procedures have been put into place to reduce the risk of contamination with naturally occurring prohibited substances.
For more advice and tips on horse nutrition visit www.feedmark.com
Don't miss the latest issue of Your Horse Magazine, jam-packed with training and veterinary advice, horse-care tips and the latest equestrian products available on shop shelves, on sale now.