The launch of WeatherBeeta ComFiTec has been by far the biggest event in the rug category for over a decade. Since it's launch in AW16 we've not only seen double digit growth on our own sales but more importantly those retailers that have embraced the ComFiTec way of selling have also reported significant growth, not just in WeatherBeeta but in the category as a whole.
NEW THERAPY-TEC
With this in mind, we're very excited to introduce the latest addition to our range, designed with your horse's comfort and wellbeing in mind: WeatherBeeta Therapy-Tec.
We've created a rug that not only fits beautifully and looks extremely smart but is also designed to increase your horse's muscle function and reduce the risk of injury, as well as reducing lactic acid build up in the muscles to aid with recovery after exercise or injury.
Fabric technology
This is all made possible by the use of Ceramic Fabric Technology.
Ceramic materials have long been utilised for heat reflection – for example on the exterior of space shuttles to reflect solar radiation – and advances in technology have enabled us to incorporate this heat-reflective material into a stylish polar fleece rug.
A ceramic powder with long-lasting properties is blended within the fabric lining, ensuring that it will not wash out.
This ceramic fabric reflects the horse's own body heat via infrared waves, boosting the blood circulation to key muscle groups. This increase in blood circulation enables more oxygen to be delivered to the muscle tissue, warming up the muscles, aiding with relaxation, and easing any strains, stiffness or soreness by accelerating tissue repair.
Covering key muscles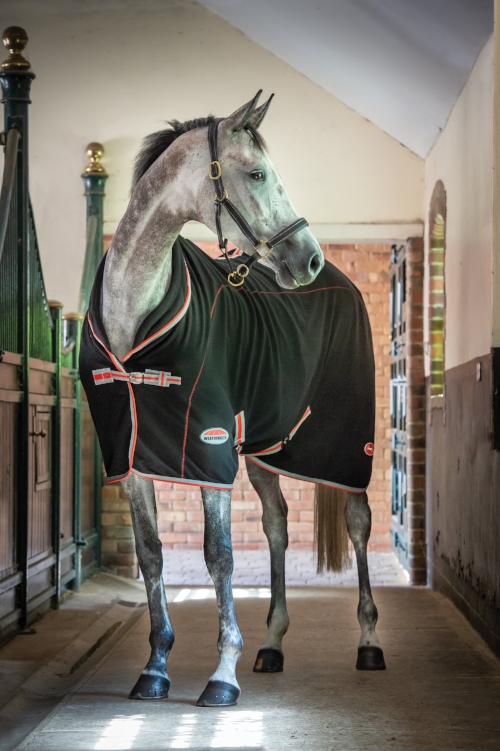 They key muscles in the horses back are the Longissimus, Iliocostalis, and the Multifudus. These are the primary supportive muscles in play when a horse is carrying a rider, and the Therapy-Tec rug boasts a ceramic-lined panel encompassing not just these muscles, but also key muscles in the shoulder and quarters, ensuring that the muscles crucial to a horse's ability to comfortably carry a human are benefiting from infrared heat-reflection.
We've all experienced muscle soreness and stiffness – or "the DOMS" as enthusiastic gym-goers call it – after a gruelling session without stirrups or a long hack, and know that a hot bath or hot water bottle will help to ease it, yet we often fail to consider the stiffness experienced by our equine partners following such exertions.
The Therapy-Tec rug will ensure that this is a thing of the past. Ideal for travelling to and from competitions, the ceramic technology in the fibres will help to warm muscles up ready for a day competing, and will then aid recovery and ease stiffness on the way home.
There's even a Therapy-Tec rug for your dog!
There's even a Therapy-Tec rug for your dog!
Also ideal for older horses suffering from arthritis or general stiffness, or those recovering from injuries, the Therapy-Tec rug is a must-have for all those of us who wish to ensure that our equine friends are as comfortable as possible, and performing at their best.
This rug is available in a combo and standard neck, and we have also created a mini version so that the canine companion in your life doesn't feel left out!
RRP £99.99 (combo neck), £89.99 (standard neck), £29.99 (canine version).
For stockists visit www.weatherbeeta.co.uk