In response to the rising cost of living, Nettex is offering a 25% discount off its grooming products during July and August. In a statement, the British company — which also sells a range of supplements as well as fly control and wound care products — said it acknowledges that the rising costs of living means that fewer riders are able to afford to enter competitions. However, Nettex is keen to share its message that you don't need an event or show to aim for in order to keep your horse sparkling clean.
It hopes that its new campaign message — 'you don't need a show to glow' — will inspire owners to take pride in keeping their horses well-groomed, pampered and feeling good whether they are being aimed at a competitive summer season or not. As well as health benefits, spending time regularly grooming your horse is good for bonding and growing your relationship too.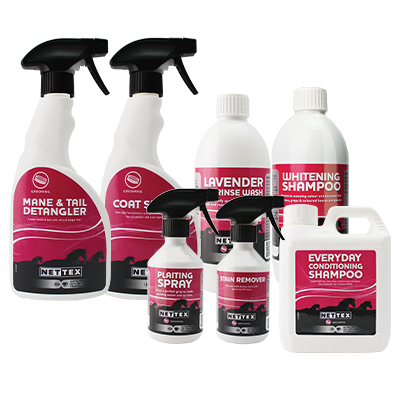 "So many of us missed competing throughout the pandemic, and it's not currently an option for everyone to be back out on the road," said Ellie Cashmore, Nettex's product manager. "But what is an option is grooming and getting your horse looking healthy and well kept.
"The message 'you don't need a show to glow' is to remind horse owners that it is still fun and rewarding to get their horses sparkling, even if they're not getting out to events," she added.
To support this, the company is offering a 25% discount on a wide range of their grooming products. These include shampoos, mane and tail detanglers, and plaiting sprays.
The offer will run through July and August 2022. The company is also encouraging riders and horse owners to share images of their horses' makeovers online using the hashtag #glowupwithnettex.
For more information, visit Nettex's website.
Find out what's inside the latest issue of Your Horse