Amateur showing riders and their horses and ponies will be vying for the top spots in the SEIB Search for a Star championships at Your Horse Live this weekend (Friday 10 and Saturday 11 November). The supreme champion will be crowned on the Saturday of the event.
The finalists include a teacher who has recovered from a serious car crash after 10 years off riding, a pony who suffered a nasty eye injury, and a former RSPCA rescue case now in tip-top condition.
A new addition to the championships at Stoneleigh Park is the Heavy Horse section. The in-hand series is open to heavy horse enthusiasts and is aimed at increasing participation and awareness of the type. The 2022 Search for a Star in-hand traditional and native champion, Lucy Parr, was instrumental in securing this new in-hand, heavy horse class for Search for a Star. "Its been great to see the different heavy horse breeds at Search for a Star this season," she said.
Heavy horse finalists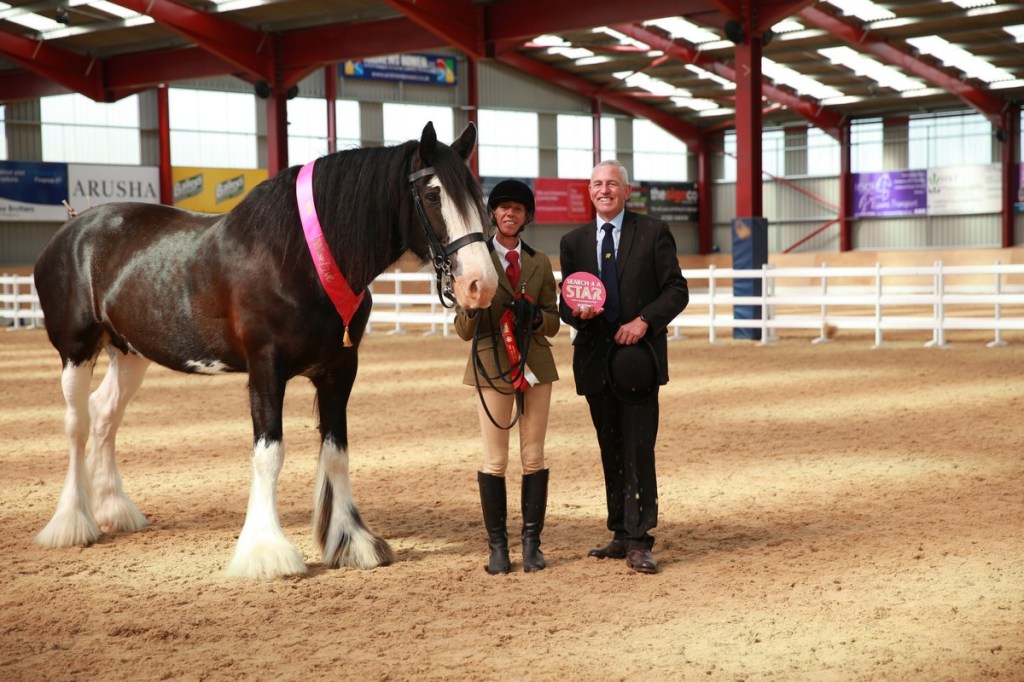 Among the finalists in the new category is Jasmin Butler and her six-year-old 18.3hh Shire gelding, Fifield Donald. "He is so versatile, I ride him at home and we go on hunt rides and he schools nicely," said Jasmin.
Amanda Butler-Merchant's nine-year-old Clydesdale mare, Rolling Thunder Maggie May (pictured above), has also made it to the championships. "She is a homebred and has the most gorgeous paces," said Amanda, who at one point had four generations of Clydesdales at home.
Rebecca Deakin's eight-year-old Percheron, Ardencroft Alfred (Cracker), will also be among the lineup. "Before Cracker I had a 14.3hh cob, I went looking for an all-rounder to gain confidence on and said as soon
as I saw Cracker I subconsciously knew he'd be coming home with me!" said Rebecca.
A four-year-old Suffolk Punch, Holbeache Scarlet, owned by Andrea Hoskins and handled by stud manager, Brad Auker, secured their Your Horse Live ticket at Arena UK. "We are aiming to preserve the breed, Scarlet is in foal, she is well put together and has also won best shod prizes several times," Brad said.
Claire Hooper and four-year-old Shire gelding, Caerberllan Flash Harry, owned by Claire and her partner Craig Woolmer, will also be in the ring at Stoneleigh. "Before Harry, I had a Connemara but I'd always liked Shires
and I've been diagnosed with Fibromyalgia and was after a steadier type of horse, jumping is too
much for me now," said Claire. "Harry has a lovely laid-back nature and our ultimate goal is to compete in
dressage – he's already learning leg-yielding."
Mountain and Moorland finalists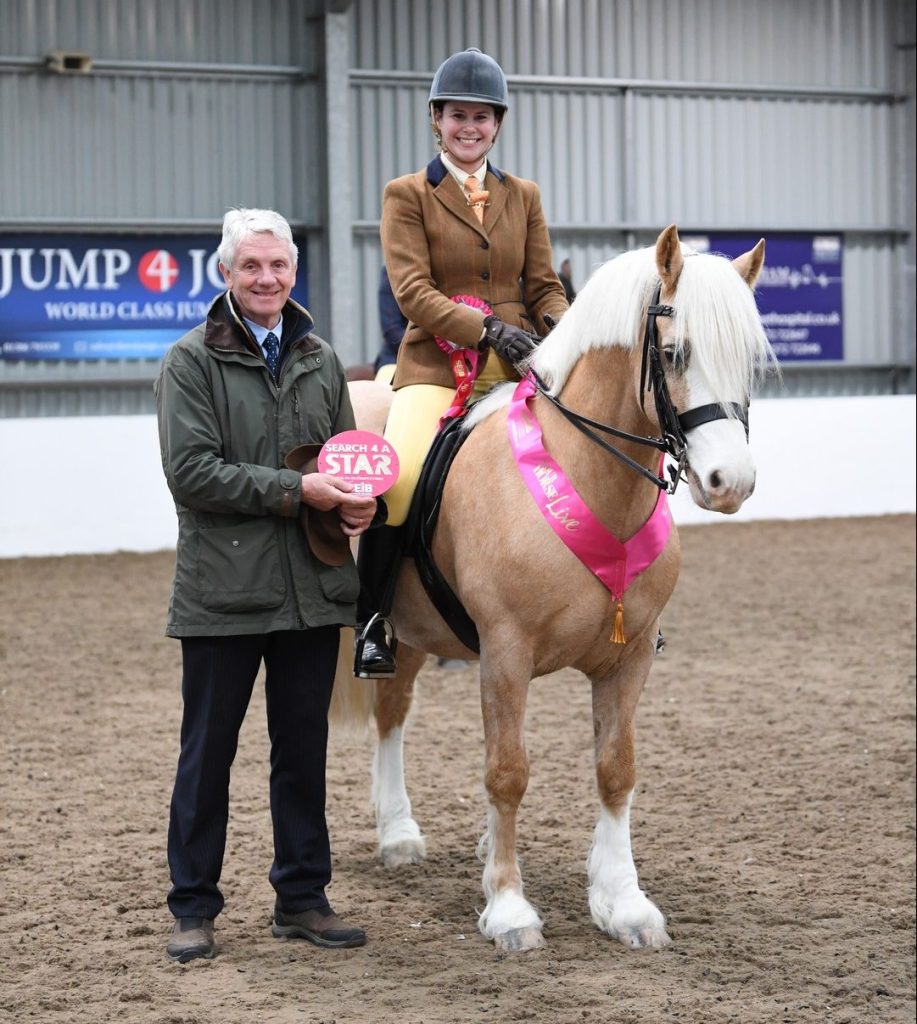 Fell pony Ancaladh Wilf owned and ridden by Stacey Mitchell from Cumbria will be among the combinations in the Mountain and Moorland championships, as well as Welsh Section D Dearnevalley Firefly, owned and ridden by Adele Forster from Lancashire. This is the second time Adele and the chestnut have qualified for Your Horse Live, taking fourth in the final in 2022.
Highland and former Search for a Star winner Kirtonian Loch Birnie, owned and ridden by Liz Twite from Devon, will be vying for the championship title once again. They will be up against Connemara Naylors Dara Sea Mist, owned and ridden by Hannah Delaney. Hannah also has Naylors Dara Sea Mist's full brother at home.
Dales pony Nipna Outrageous, owned and ridden by Nicola Clarey from Lincolnshire; Welsh section D Saulire Thunder Struck (pictured above), owned and ridden by Caroline Edgson from Warwickshire; and Welsh section B Thistledown Land Of The Free, owned and ridden by Katie Jones from Kent, will also be among the lineup.
Completing the class is Welsh section D Thorneynewside Replay, owned by Louise Kohl and ridden by Olivia Kohl from Leicestershire and Highland Trailtrow Tarka, owned and ridden by Katrian McCoy from Lancashire. Katrina was suffered nerve damage in a car crash and was out of the sadlde for 10 years. She has slowly got back into riding over the last five years with Tarka, with lots of hacking which she fits in around her job as a secondary school teacher.
Pony Club finalists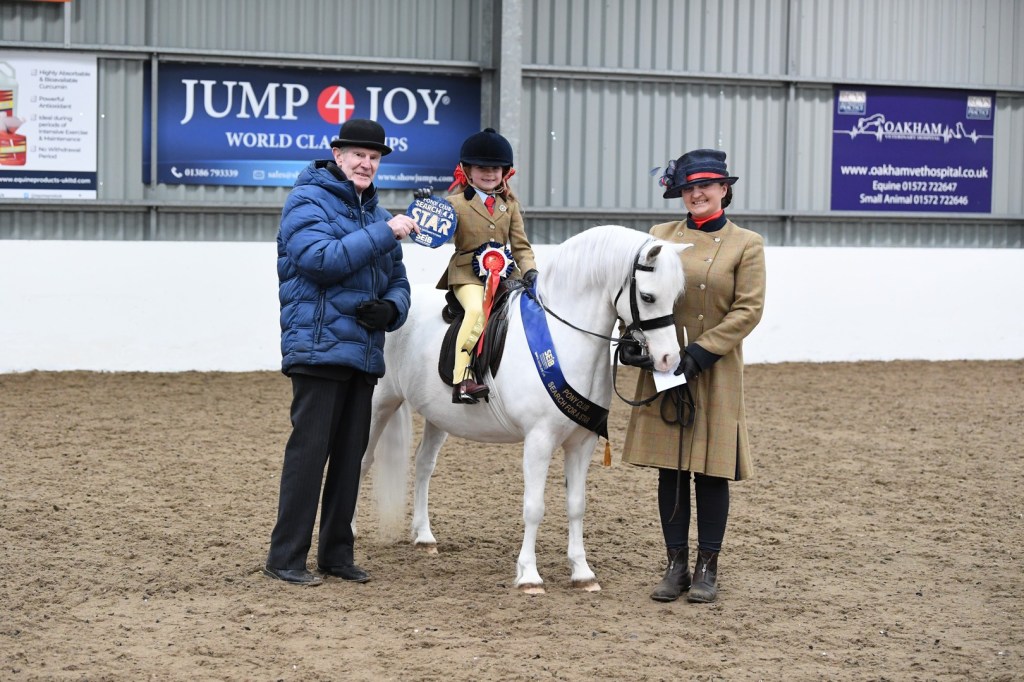 The Search for a Star Pony Club Lead Rein championship qualifiers include Beeftub Bell Emileo, owned by Kate Hampton and ridden by Morgan Matthews from West Midlands. Five-year-old Morgan is said to be very excited about coming to Your Horse Live and some friends from the yard have been allowed the morning off school to come and watch.
They will be joined by Cui Vulcan, owned by Anne-Marie Fisher and ridden by Violet Fisher from Co Durham; Thistledown Edison, owned by Mary-Jo Grant and ridden by Ianna Grant from Ross-Shire; Thistledown Magpie (pictured above), owned by Jamie Clarke and ridden by Charlotte Knight from West Midlands and Westfirle Kestrel, owned by Jade Langford and ridden by Jessica Langford from Essex.
The Search for a Star Pony Club First Ridden championship lineup includes Amilas Chorizo, owned by Teresa Wilks and ridden by Tilly Wilks from Northamptonshire; Desarbre Sparrow Hawk, owned by Lisa Croft and ridden by Millie Croft from Nottinghamshire; Rhos Elodie, owned by Sam Crutchlow and ridden by Phoebe Crutchlow from Warwickshire and Shilbrook Mr Holly, owned by Heather Hiscox and ridden by Henry Hiscox from Warwickshire.
Completing the first ridden lineup is Tynycaia Lollipop, owned by Lucy Drummond and ridden by Grace Drummond from Wiltshire, and Winton Peter Pan, owned by Helen Gee and ridden by Connie Howard from Derbyshire.
The Search for a Star Pony Club Open championship will see Fronarth Giovani, owned by Teresa Wilks and ridden by Olivia Wilks from Northamptonshire, hoping to impress the judges at Your Horse Live. They will be joined by Just Texas, owned by Dee Bagnall and ridden by Eva Bagnall from West Midlands. Just Texas has had a challenging time, as he suffered an eye injury earlier this year. He had torn the membrane at the back of his eye and had to see the eye specialist and have time off.
Also in the open Pony Club championship is Kind Gent, owned by Heather Hodgson and ridden by Robyn Hodgson from Glasgow; Little Miss Flintstone, owned by Shelley Harvey and ridden by Lexi Eccles from Lancashire, and Smudge Marks, owned by Amanda Chapman and ridden by Megan Mathers from Nottinghamshire. Completing the lineup is Tregaire Tiger Lily, owned by Eloise Chugg-Martin and ridden by Rose Chugg-Martin from Gloucestershire.
In-hand mountain and moorland and traditional finalists
Among the Search for a Star in-hand Mountain and Moorland championship contenders is Danaway the Gambler, owned by Karen Badrick and handled by Lewis Marks from Hertfordshire; Shetland Halgavor Driftwood (pictured above), owned and handled by Laura Dobson from Derbyshire, and Kirtonian Loch Birnie owned and ridden by Liz Twite from Devon.
Also hoping to take the in-hand M&M title is Nabside Guinivere, owned and handled by Nicola McCririck from Roxburghshire; Nantymynydd Mabs, owned and handled by Kerry Whiteman from Lincolnshire.
The In-Hand Native and Traditional championship will see Albe Cass Bounce Back, owned and handled by Caitlain Smith from Manchester, enter the ring, alongside Foxwell Butterscotch (pictured top), owned by Louise Pepperdine and handled by David Pepperdine from Lincolnshire. Louise has owned the traditional gypsy cob since he was 10 months old.
Little Thomas Tank, owned and handled by Teri-Anne Stone from Hampshire, will also appear in this class. Teri-Anne and Tank also qualified for the Search for a Star traditional cob final at HOYS this year. They will be joined by Littlebyrom Bob The Cob, owned by Sarah Thomasson and handled by Erica Thomasson from Lancashire, and Trish, owned and handled by Bee Parks from Warwickshire. Trish is a skewbald traditional cob who was previously rescued by the RSPCA around 10 years ago.
In-Hand Veteran finalists
Sixteen-year-old Parknook Perseverance, owned and handled by Suzy Ayres from Perthshire, will be among the finalists in the In-hand Veteran championship at Your Horse Live. Suzy and Parknook Perseverance also compete in Team Quest dressage, local shows and hacking. They will be joined by 2022 champions Randall IV, owned and handled by Lucy Ashworth from Oxfordshire. Randall IV is 25-years-old and is an ex-showjumper and he still sometimes jumps at home. He also enjoys going on beach rides.
Also in the class will be 18-year-old Romany (Play The), owned and handled by Heidi Bull from Shropshire. Heidi has 6 plates and screws in her pelvis so said that she is suited to in-hand classes. They will be joined by 18-year-old Royal Sovereign, owned and handled by Emma Barrow from Essex, and 19-year-old Uppers (pictured), owned by Nicolina White and handled by Terri White from Staffordshire.
In-Hand Plaited Horse and Pony finalists
In-hand plaited horse finalists include Betheholyman, owned and handled by Mali Jones from Swansea; Gentleman's Manhattan, owned and handled by Leanne Oliver from West Yorkshire, and Hawklands Two Time Archie, owned and handled by Amanda Bubear-Gammon from Somerset. They will be joined by veteran finalist Randall IV.
In-Hand Plaited Pony qualifiers are Darkhour Sir Bobby Dazzler, owned by Helaina Storey and handled by Poppy Storey from Kent; Izzel Code of Honour, owned by Georgia Sharp and handled by Grace Sharp from Cambridgeshire, and Rhos Elodie, owned by Sam Crutchlow and handled by Phoebe Crutchlow from Warwickshire. Last but not least is Ronanno Royal Myth, owned by Victoria Bryan and handled by Molly Bryan from Staffordshire.
---
Love hacking? Join our free #Hack1000Miles challenge and see how far you can go!
Subscribe to Your Horse Magazine – the perfect Christmas gift!
Find out what's inside the latest issue of Your Horse