A remarkable police horse, charitable farrier and an individual dedicated to raising the profile of Shire horses, were among the winners at this year's British Horse Society (BHS) awards. The ceremony celebrated equestrians who have gone the extra mile to make a huge impact on behalf of the charity and the equestrian world. They were presented by BHS Ambassador and presenter Lizzie Greenwood-Hughes.
After celebrating 20 years with the Merseyside Police, the Equine Personality of the Year Award went to Jake. A 24-year-old Cleveland Bay cross gelding, Jake has taught hundreds of officers to ride with his "gentle and charismatic" personality. He has attended a large number of events, including the 2012 Olympics and the 2011 riots.
Welfare awards went to four inspirational people, including farrier Josh Eddleston. Although based in the North West, Josh has travelled across the country to support the BHS at various healthcare and castration clinics, often completing around 30 trims a day. He is also keen on passing on his knowledge to owners.
John Fletcher was one of five who were presented with the Unsung Hero Award, having spent over 40 years promoting the endangered Shire horse breed. Gentle Giant Shire Horses have worked tirelessly to grow a business which has Shire horses at its forefront. They not only promote the breed but have a keen interest in passing on their knowledge and skills to the future generation.
The Unsung Hero Award was also won by Sally Wood, a riding coach with an "overwhelmingly positive attitude". She has inspired many to follow their dreams and pursue a life in equestrianism.
'A shining example'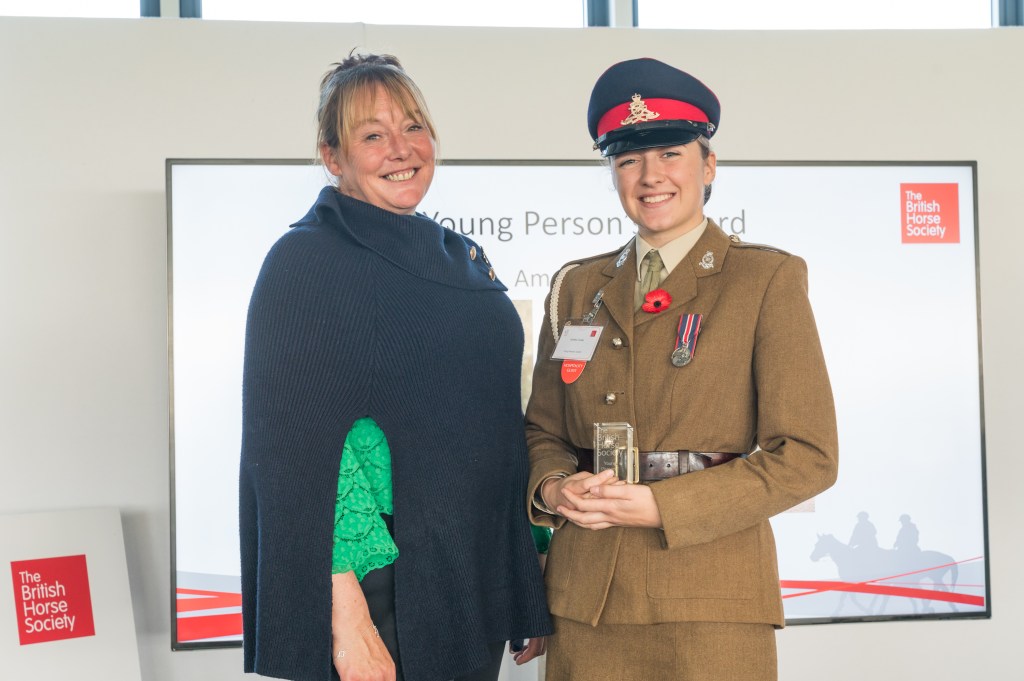 At 20 years old, Amelia Cooke (pictured above) was one of two people presented with the Young Person's Award to recognise the outstanding example she has set for others. After struggling through school with dyslexia, Amelia has since backed nine horses for The King's Troop Royal Horse Artillery, and rode at the late Prince Phillip and Queen Elizabeth II's funerals.
For the second year running, Changing Lives through Horses (CLtH) featured strongly in this year's role of honour. Shanie from Country Treks won The Pamela Almond Changing Lives through Horses Achieve Award. After being excluded from school, Shanie came to Country Treks with no experience with horses. Since then, she has shown a remarkable change in attitude, with a love of horses and passion for the equine industry.
The Changing Lives Through Horses Approved Centre Award also went to Country Treks. Their commitment and success with the programme has transformed many young peoples' lives, and is a "shining example" of the effectiveness of the programme.
The BHS paid tribute to the Warwickshire Road Safety Partnership (RSP) with the Tarquin Trophy, which is awarded for excellent service by an organisation or business in the cause of equestrian safety. Since its creation, this RSP has gone "above and beyond" to share advice and guidance to drivers in Warwickshire.
Dedicated volunteers Debbie James and Virginia Jones were recipients of the Access Award. Debbie and Virginia have both "worked tirelessly" to promote, improve and extend safer off-road riding through important fundraising initiatives.
Worthy winners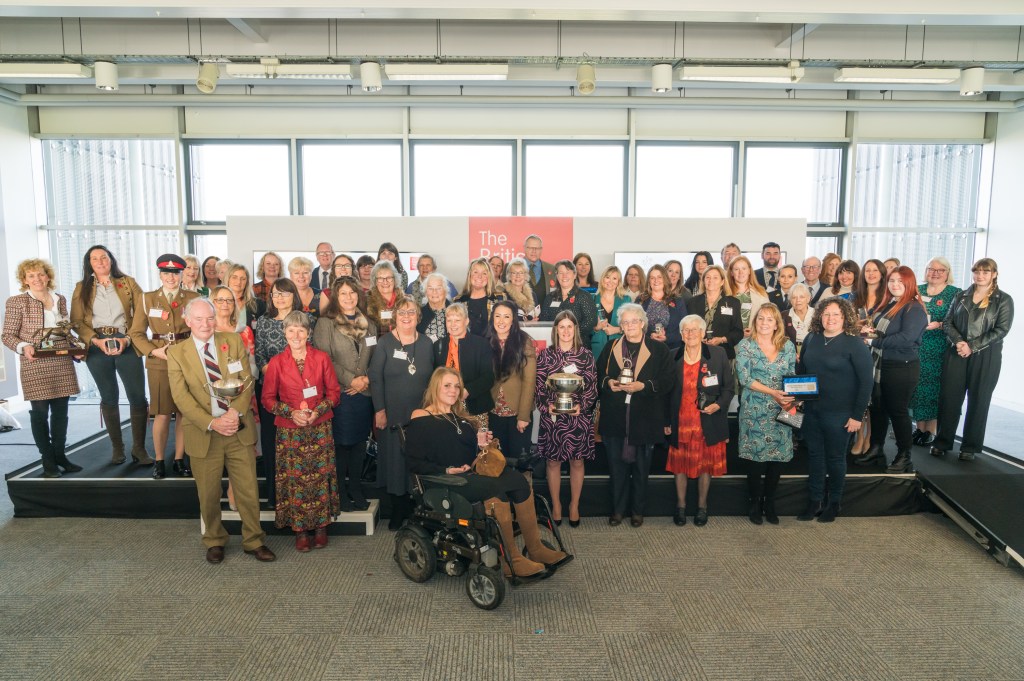 Following her very sad passing this year, the BHS were also proud to commemorate Claire Robinson with the charity's President Award. Claire started volunteering in 1998 and was an extremely valuable, experienced welfare advisor who visited over 500 welfare concerns – many of which were deemed to be serious or an emergency.
"Not only was Claire a valued member of the BHS Cleveland committee, but she also touched the hearts of so many people through the work she did to help change the lives of many horses and their owners," the charity said.
Speaking at the event, BHS Chief Executive James Hick said: "This event is one of the year's highlights for us as a charity, as we acknowledge and celebrate the incredible efforts of our volunteer community – which currently stands at more than 1,300. We also recognise the brilliant work of some of our partners, as well as a number of individuals who really have gone above and beyond the call of duty.
All their dedicated support is so important in helping to deliver our charitable work. Without them, we wouldn't be able to continue to be by the side of the whole equestrian community and to ensure more people from all communities, can experience the true joy of horses."
Inspired by the awards? Find more below…
---
Love hacking? Join our free #Hack1000Miles challenge and see how far you can go!
Subscribe to Your Horse Magazine – the perfect Christmas gift!
Find out what's inside the latest issue of Your Horse