In the April issue of Your Horse we're celebrating key workers and the heroic efforts of horse owners and riders in essential roles during the Covid-19 pandemic.
Also inside this issue we launch the very first Your Horse Key Worker Awards. Join us and say thank you by nominating a key worker.
The April issue is on sale Thursday 4 March. Find it on a newsstand near you or order online here.
What's inside…
Hero key workers
Honest accounts from life on the frontline and how their horses have been pillars of strength:
The paramedic who was attacked at work and nearly strangled; how a horse helped him back to health
The customer service assistant whose home delivery service is a lifeline for many
The consultant radiologist who's father was killed by Covid and who assesses Covid sufferers daily
The Network Rail signaller who's had to deal with three suicides
The deputy sister carrying out heart-wrenching end-of-life care
The customs coordinator making sure ships carrying vital cargo make it into British ports
The postwoman whose job has changed and expanded ten-fold
The homicide detective who's major murder enquiry was stopped in its tracks by Covid
The HGV driver who was made redundant and now runs her own critical business
PLUS Your Horse Key Worker Awards — nominate now!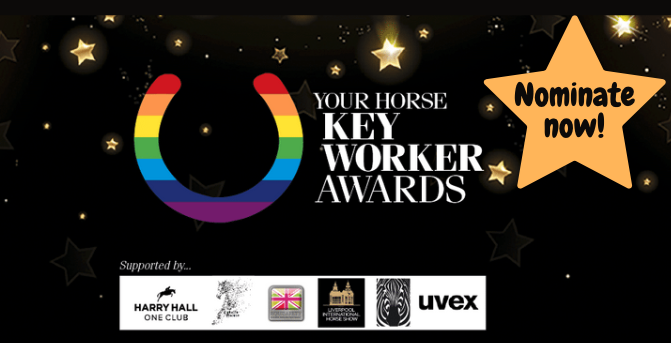 In the rest of the issue…
How maps spread out on the kitchen floor turned into a challenging 380km ride with two horses over mountains, through glens and around locks from one side of Scotland to another
Five minutes with Countryfile presenter and popular Adam Henson
In Your Horse's Training:
Discover how horse agility will help build a better partnership with your horse (and why it's so much fun for both of you — you don't even need to be in the saddle!)
Three creative flatwork exercises to improve engagement and self-carriage
Pole work patterns to spice up your schooling sessions
Five-star event rider Simon Grieve's tips for maintaining a consistent rhythm over fences
In Your Horse's Care:
Must-read advice for owners and riders of horses who are shy/nervous/explosive when ridden around other horses
The latest research that shows the time of day you feed and ride, and how long for, affects gastric ulcers
Vet notes: the lowdown on deadly peritonitis, which can look a lot like colic
Mane and tail SOS: makeover time for your horse's locks after a long winter
The weight debate: equine obesity is on the rise, but is it recognised?
Tying-up: potential triggers and why is can affect any type of horse
In Ask The Experts:
Retraining racehorses: finding the brakes, correct feeding and how to let them down when they arrive fresh from the track
Breeding: making wise choices for older mares, how family trees work and what to expect at stud
Dentistry: how to age a horse by looking at his teeth, runny noses and tooth decay
In Your Horse' Gear:
Tried and tested: girths
We showcase a selection of the latest body protectors
First Look: Miracle Mare from Nettex
Buyer's guide to buying a new riding hat
Where to buy Your Horse:
Can't get to the shops? Click here to buy directly from us. It's the same price as in shops.
Subscribe. Click here for our latest deal. You'll save money and never miss an issue.
Digital and Print options are available.