Advertisement Feature
If you think about someone learning to ride a horse, chances are you're picturing a child trotting around a paddock at the local Pony Club, but a 2019 survey showed that the biggest increase in horse riding has been among people between the ages of 25 and 44.
Not everyone gets the opportunity to learn to ride as a child, but there's nothing to stop you from learning to ride a horse as an adult, you can even use your age as an advantage. We have more patience as we get older and tend to be more aware of our strengths and weaknesses, letting us focus on the areas we need to work on.
You may not be as quick to jump into that saddle as you might once have been, but consistency and determination are much more important than speed and talent when learning something new.
What are the benefits of horse riding?
Exercise is important at any age, and horse riding gives you a full body workout that involves both strength training and balance, both of which can help reduce the risk of falls – one of the main reasons older people are admitted to hospital. It might look like you're just sitting still but you need balance and coordination to stay upright on a horse, as well as strong core muscles.
Horse riding works your biceps, quads, hamstrings, glutes, spine and hips, without you ever having to set foot inside a gym, and that's while you're on the horse; cleaning stables out, grooming, and carrying equipment, are all physical exercises too.
Being out on a horse in the great outdoors is hugely beneficial for your mental health too; all that time spent in the fresh air helps release those vital, mood-boosting endorphins that help to reduce stress. And our brains need exercising too as we get older and learning a new skill is a great way of keeping them in shape.
The beauty of horse riding is that you can be as solitary or as sociable as you want, depending on how you feel, and if you don't want to be around other people, don't forget you have a companion right there, alongside you. Lots of riders feel in tune with their horse and say they can pick up on each other's emotions.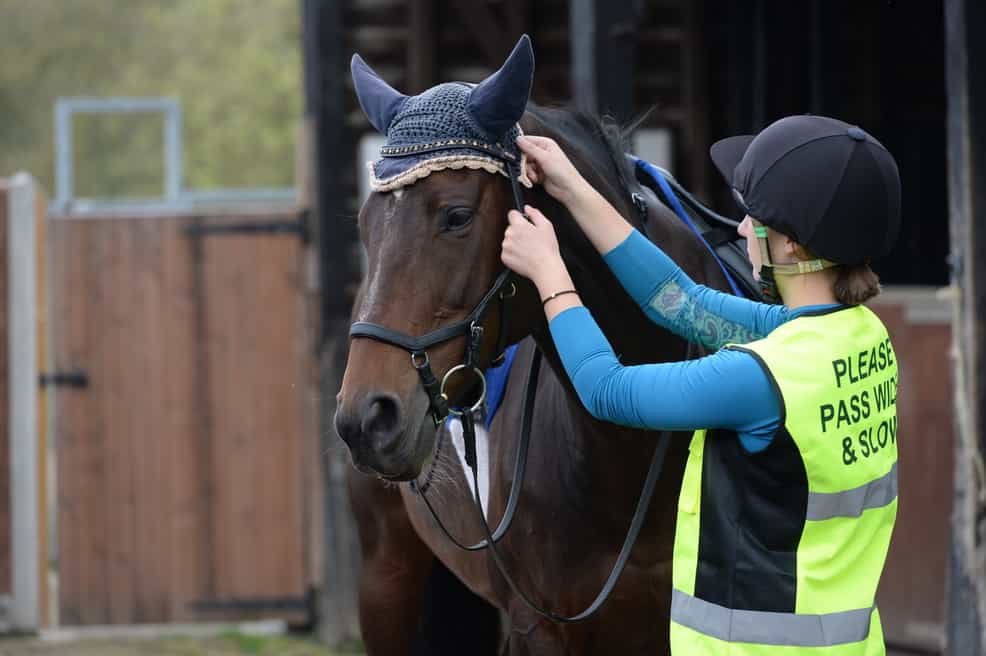 Getting started
You can find a list of local riding centres through the British Horse Society. They'll be able to advise you on whether you might be more suited to group lessons, or one-to-one lessons, and there might even be lessons aimed specifically at the older rider.
Think about what you want to get out of riding lessons; what kind of riding do you want to do? Do you want to eventually compete? Or maybe even own your own horse? The most important thing is that you have an experienced teacher who you connect with.
While we don't often think of horse riding in the same way we would other sports, such as running or tennis, the same principles apply; the more you practice, the more progress you'll make. Making it part of your routine is vital and the more you ride, the more confident you'll feel. You might feel a bit stiff at first because you'll either be using muscles you may not have used for a long time, or using them in a different way, so remember to warm up beforehand, and do some gentle stretches on the days you're not in the saddle.
Whenever you start a new form of exercise, if you have any medical issues, or just want advice, it's always good to have a chat with a medical professional before you start. Your riding centre will be able to give you advice on the right equipment, in particular a well-fitting helmet, gloves and boots.
We all know that age is just a number, but it can be quite daunting starting something new when you're a bit older. But the late Queen was well known for riding horses well into her nineties, so if you're physically fit, and have the time, all you really need is determination, a love of horses, and maybe a decent pair of padded trousers!
Of course, riding isn't without its risks, so it's worth looking at The Insurance Emporium's Horse Rider Insurance Policies; this would give you the peace of mind to enjoy your new hobby safe in the knowledge that you have a policy that suits your needs. Give us a call today for more info and a free no-strings quote.
All content provided on this blog is for informational purposes only. We make no representations as to the accuracy or completeness of any information on this site or found by following any link on this site. We will not be liable for any errors or omissions in this information nor for the availability of this information. We will not be liable for any loss, injury, or damage arising from the display or use of this information. This policy is subject to change at any time.
We offer a variety of cover levels, so please check the policy cover suits your needs before purchasing. For your
protection, please ensure you read the Insurance Product Information Document (IPID) and policy wording, for
information on policy exclusions and limitations.
Lead image by Shutterstock
---
Love hacking? Join our free #Hack1000Miles challenge and see how far you can go!
Subscribe to Your Horse Magazine – the perfect Christmas gift!
Find out what's inside the latest issue of Your Horse