Feeding your horse or pony when they are prone to weight gain or developing laminitis can be tricky. But with the right feed, there's no need to panic.
As grazing quality increases, spring is the perfect time to assess your horse or pony's diet to ensure that it is well balanced.
A balanced diet
Feeding and exercise are both important factors in maintaining good health, but exercise is not something that's always easy to achieve, making it absolutely essential that feeding is correctly balanced.
Balancers containing low levels of starch and sugar, whilst having a whole cereal and molasses free formulation, are key.
They are the perfect way to ensure your horse or pony is obtaining the correct daily intake of essential vitamins, minerals and nutrients.
Aim to create a high fibre, low calorie diet for your horse or pony which is supported by ingredients such as pro-biotics to improve digestive health, and the effective absorption of nutrients, plus hoof supplements to support the growth of strong pliable horn.
Blue Chip Feed Balancers are the only brand to include Nucleotides which aid cell repair, and are essential to every cell in the body as the building blocks of DNA and RNA, alongside pre and pro-biotics to replenish and promote the growth of fibre digesting healthy bacteria.
If your horse or pony needs a restricted grazing diet, then a balancer will fully support their daily health without you needing to worry.
Spotlight on Lami-Light
"Lami-Light has kept my pony in good health for several years. I feed it to both my horses in a treat ball every day, both look forward to their Lami-Light given in this way and it is clear from their enjoyment that it's extremely palatable for them."
"I have used Lami-Light for years now, my welsh cobs look amazing on it, even my 32 year old stallion."
"My ponies love Lami-Light. A good balancer for my tubby highland and Shetland, and perfect for my wee veteran Cushing suffering Shetland pony who sometimes gets struck by bit of laminitis. She is looking very good on her Lami-Light."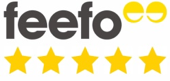 For more information on any Blue Chip Feed products visit www.bluechipfeed.com or call 0114 266 6200 for any additional advice or queries. You can also find us on Facebook and Instagram too.