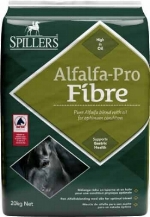 Three horse owners have been testing Spillers Alfalfa-Pro Fibre to see how good it really is.
They've been feeding this short chopped feed to their horses for approximately six months.
You can read how they've got on as they each review the feed below.
Price £14.10 for 20kg
For more information visit www.spillers-feeds.com
---
Tested by Sarah Oakley from Rutland
Used for six months
Wilfred is a 17hh, seven year old, KWPN. It was last September that he started acting a little strange; very twitchy, lethargic, not going forwards, grumpy around belly area, grinding his teeth, losing weight and not eating well.
He had a gastroscope in October and was found to have grade 2 ulcers. He was given peptizole for four weeks after which he seemed much better, but still not right so I gave him another month to see if he would improve. This worked as most of his symptoms virtually disappeared apart from he was still a bit grumpy around tummy area sometimes.
Wilf is on a on a high in fibre, low sugar and starch diet with plenty of forage.
Since adding Spillers Alfalfa Pro to his diet Wilf is now more relaxed around his girth area and less twitchy generally.
He enjoys the feed and even licks the bottom (which he never did before). It's softer in texture and smells better than other alfalfa feeds. He does take his time eating so I believe it extends chewing time.
I also give him a handful of Alfalfa Pro half an hour before I ride as it lines his tummy and gives him just the right amount of energy needed. When riding, he has the right amount of energy, as before he was really behind my leg and lacked any impulsion, he was hard work to ride. This is no longer the case, he is much more willing to work, our dressage is really progressing well.
His coat is amazing and he looks in great condition, he started putting weight on as soon as I started feeding him it and his condition improved fairly quickly.
I can honestly say he's back to the relaxed, contented and enjoyable horse he was. I would definitely recommend this feed to anyone with a horse with ulcers or at risk of getting ulcers. I shall continue to feed Spillers Alfalfa Pro, I so pleased with the results.
---
Tested by Sharon Fletcher from Yorkshire
Used for three months
I fed both of my horses, Auburn and Tarragon, Spillers Alfalfa-Pro Fibre.
Tarragon is sharp and excitable in the summer and usually has to go on calmer while Auburn is a bit of an anxious stress head and calmers don't seem to make a difference with him.
Since using Alfalfa Pro they both been a bit calmer, and I've noticed a little more focus on their work.
Both eat it well and seem to like it. They both have good coats and look really.
I was so pleased with the results that I have recommended the feed to some friends who also have stressy horses.
It did take a while to get hold of the feed and in the end I had to have it ordered in especially.
---
Tested by Allison Lowther from Lincolnshire
Used for six months
I've fed Spiller Alfalfa Pro to my two horses, Jester and Wish mainly because they weren't keen on eating the alfalfa product I was feeding to them.
Since changing to Alfalfa Pro they are both eating their feed, licking their bowls clean morning and evening.
It feels much softer and smells very palatable compared to the feed they used to have.
Jester is 22 and is semi retired, only go for short hacks as an escort to my other horse.
He can be quite fussy about his feed and had stopped eating some of his alfalfa as it was quite hard and stalky.
Since feeding him Spillers Alfalfa-Pro he's eating up all his food.
He has a really healthy looking coat with an amazing shine.
He's also carrying just the right amount of condition just on a balancer and the Alfalfa-Pro.
Wish is 13 and in regular work and competing at elementary/medium level dressage.
Sh's always been quite lazy and I've struggled to find a feed that gives her sensible energy without sending her spooky. Since feeding Alfalfa Pro she is much more forward going and easier to ride.
I did have to reduce the amount I fed to her over the summer as she did gain quite a lot of condition!
Initially I struggled to find a feed shop that stocked it, but I soon found one that would happily order in the number of bags I wanted.
I'd definitely recommend Spiller Alfalfa Pro, my two love it!