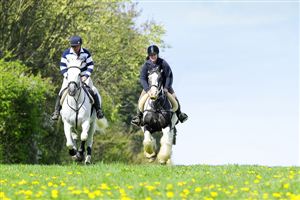 There's nothing more exhilarating than a good canter in the great outdoors – Michael Peace is here with tips to help you enjoy riding in the open, safely.
Blowing away the cobwebs out hacking is one of the thrills and privileges of horse ownership, so don't be daunted by the prospect of upping your speed when you're out and about. We've spoken to expert horseman Michael Peace for his top tips for making sure you and your horse approach every canter with confidence, and stay safe and sound to boot.
Canter with confidence
If you're preparing for your first canter in the open with a new, young or inexperienced horse, Michael recommends perfecting your control in the school, then introducing your horse to cantering on grass in a small paddock, where you know it's safe. He adds: "It's really important to practise lots of changes of direction and transitions from trot to canter to trot, so it's all on cue and your horse is in tune with you."
When you're ready to canter on a hack, choose somewhere with suitable footing and avoid long straight tracks where your horse might be tempted to gain speed. "If there's a big space in front of them, horses can get excited," Michael says. "If you've picked somewhere where he can't look off into the distance and think too far ahead, you're far less likely to find him getting faster and faster."
Staying in control
A hacking companion can help you ensure a positive experience for both you and your horse. "Make sure you're riding with someone sensible who isn't going to say 'let's go' and suddenly set off.
"Do it sympathetically, almost drifting into a slow canter. You can really play with this, especially with a young horse – go up to canter for a few strides, then bring him back to trot then walk with a pat, then gently drift up again, to show him there's still discipline involved in cantering out hacking," says Michael.
Feel Secure
If you're worried about your horse running off, staying focused will help. Michael says: "You need to check this early. Watch him so you can spot what's happening in his head almost before he realises he wants to go faster." If he does go faster than you'd like, sit up tall and use a subtle squeeze and release on your reins to ask him to slow down.
Michael adds: "Shortening your stirrups by a hole or two will also give you added security if you need to take a stronger pull, but do this casually and well before you canter so your horse doesn't associate this with going faster."