Hack 3: The Suppling Hack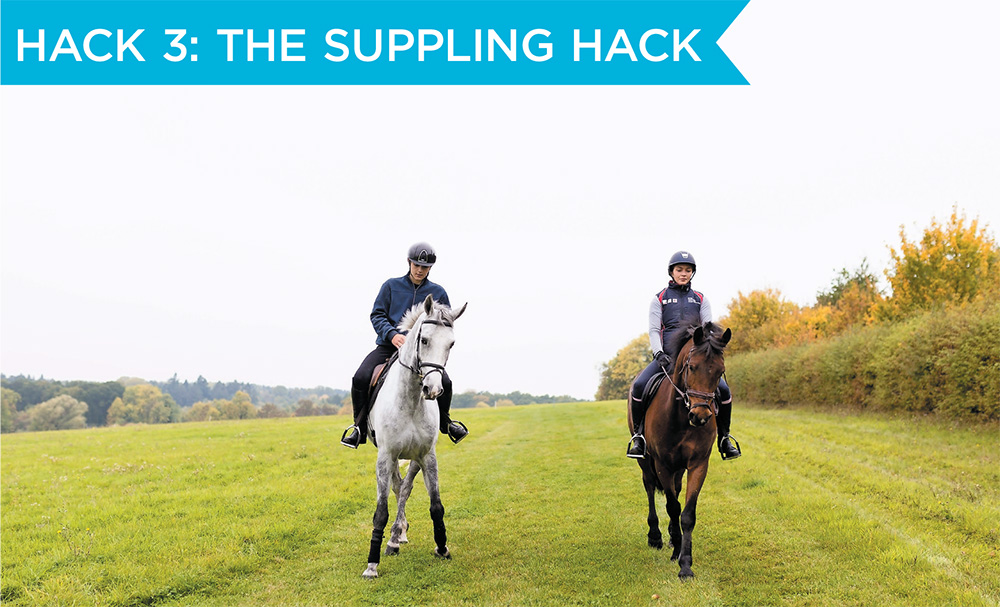 This 30-minute ride is especially good for those of you that don't have easy access to a school or want a change from the arena. Incorporating lateral work on hacks is great because it helps supple them up when they are relaxed and out of a working environment. Lateral work encourages the horse to bend correctly, by stepping their legs beneath them and flexing each leg independently it means your horse is making his haunches stronger and more flexible.
How to ride it
Warm up: Set out on your hack in a positive walk and after five minutes encourage your horse to take a gentle contact so that he is mouthing the bit and ready for your signals.
Core work: After 10 minutes, push him into trot keeping this contact then start to ask for a bit more once he has settled. When you are on a flat track or roadway (don't do this on the actual road) ask him for some shoulder-in on both reins for three to four strides each side then bring him back to walk. After he has had a breather push him back into trot and ask for a bit of leg-yield on each side for another three to four strides then again bring him back to walk, repeat a couple of times. and reward him with a leisurely ride back home.
Head home: After he has worked hard reward him with a long rein (still have control) on the way home to let him loosen up. Lateral work isn't easy for horses because they are made to move in straight lines so never do too much of it.