A pair of overreach boots are designed to protect your horse from injuring himself. Overreaching is when the toe of the hind hoof strikes the back of the front foot. It can cause severe bruising, abrasions and sometimes nasty cuts into the delicate heel area.
Overreach boots wrap around your horse's pasterns, covering and protecting his heels. Many boots use modern materials that provide the best possible protection.
There's lots of choice when it comes to picking a pair of these protective boots, so we've picked our favourite three to make your decision a little easier.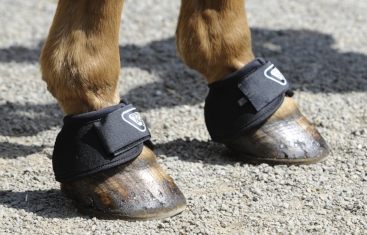 Tri-Zone Overreach Boots
These boots have been developed to be extremely hard-wearing boot that offers safe protection from over reach injuries. The carefully designed shape of this innovative boot minimises the risk of your horse treading on the boot and tripping. They have a super tough strike guard to protect the heel area and an anti-spin button to help hold them in place.
Price £27.95 *
---
Woof Wear Smart sheepskin overreach boots
Designed to provide exceptional protection to the delicate heel and pastern area, these boots have a Poron Xrd foam in the key strike area which on impact stiffens to give added protection. An anti-spin device ensures a secure fit whilst the super soft sheepskin collar makes the boot comfortable to wear as well as additional protection to the pastern area.
Price £40 *
---
Veredus Piaffe Shield
A unique looking overreach boot designed to provide total protection to your horse's heels. These close-fitting boots are anatomically shaped to stay securely in place and have two protective bulbs covering the vulnerable bulbs of the heels. Quick release, double fastenings ensure the boots don't move at all.
Price £132*